The e-commerce space is becoming fiercely competitive each day. More than 1.5 billion people around the world purchase goods online. This has led to a drastic increase in online transactions. E-commerce sites store millions of critical customer data like bank details, card information, and other personal data. As a result, these sites have become a major target for hackers.
Surveys show that 78% of e-commerce sites are prone to cyber attacks. This means almost every store is a target. Even your store could be one of them. Now the question is, have you done enough to safeguard it?
Running an e-commerce store comes with an entirely new set of risks that you need to be prepared for. A Forrester study says that 60% of online shoppers believe that the current security in e-commerce sites is inadequate.
Every year new security standards crop up to defend businesses from falling prey to fraudsters. If you haven't implemented the latest updates yet, it's high time you started. To make your job easier, we have listed out the various steps you can take to secure your e-commerce business. Let's take a look.
Choose the E-commerce Platform & Hosting Provider Wisely
Open source platforms can be vulnerable to hacking unless you have a strong security system in place. Now that doesn't mean that you should not use an open source platform – all you need to do is take great care while configuring it. If you need help with that, you can always contact us. We've got seasoned developers to help you out with. That said, we would definitely recommend hosted platforms like Shopify, BigCommerce etc. since they have security compliant networking standards, a dedicated team of developers tending to security concerns etc.
While choosing a hosting service, ensure that it has a properly maintained backup system so that you can retrieve your site's data in the event of any security breach. If your hosting provider does not have an automatic backup feature, make sure to manually backup your site regularly.
Use a Secure Connection for Checkout
Gone are the days of the HTTP. The HTTP protocol, which transfers information from the users' browsers to the server, isn't safe anymore. Why? Because it does not use any encryption. This puts all the passwords, ATM pins, bank account details and other sensitive information at the mercy of the hackers.
We advise you to use HTTPS instead. It uses an SSL (Secure Socket Layer) certificate which encrypts all data sent to and fro between the browser and server.
Test Your Website's Security
You can use this free tool from SSL Labs to check the security of your website.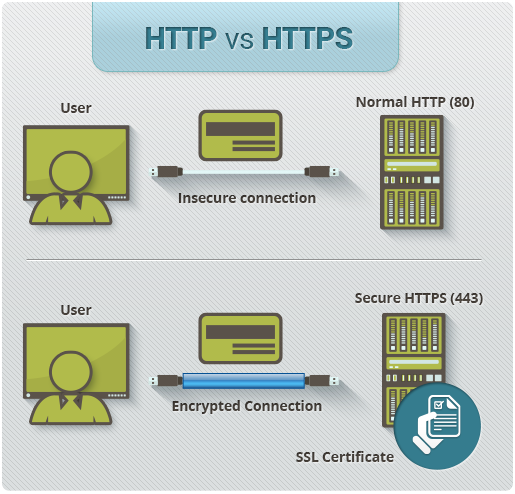 (Image Source: https://www.instantssl.com/ssl-certificate-products/https.html)
Avoid Storing Sensitive Customer Data
Nowadays, businesses thrive on customer data. Hence, at every step of shopping online, websites tend to capture as much customer data as possible. Most of this is stored. This makes the data readily available to hackers if your website is compromised. Therefore, it's wise to store only the data you need instead of everything you can get your hands on. Avoid storing credit card information, bank details, and other critical information. Not storing such data might turn out to be a little inconvenient for customers since everyone is looking to save their cards for a quick checkout, but it will save you a lot of legal penalties in the long run. You can also encourage your customers to use third party payment gateways for making their transactions at checkout.
What is Considered as Sensitive Customer Data?
Credit card information

Passwords/Security Code/Access Code

Bank account numbers

Biometric data

Email ID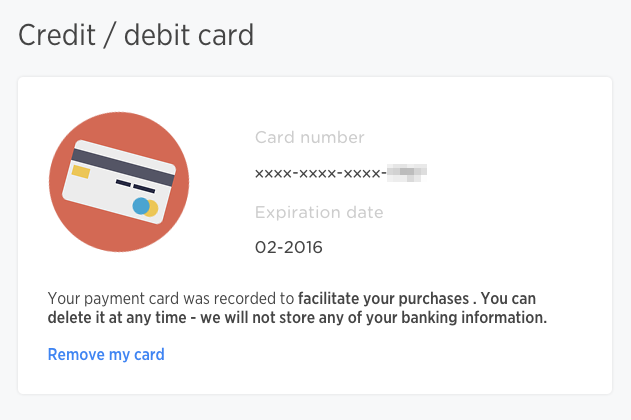 (Image Source: https://support.cheerz.com/hc/en-us/articles/204531097-Remove-credit-card-information)
How to Make Your Customers a Strong Asset Against Data Breaches?
Educate them about the data security standards that you have implemented and why. This will increase customers' trust. Put up stamps like Stripe, Authorize.Net etc. (only if you are using them) on your site so that customers visiting your store can see that it's a professional and trusted site.
Encourage them to use strong passwords by adding password validation rules to your 'Sign Up' page. You can ask customers to use a combination of lower and upper case letters, special characters, and numbers as their passwords.
Since Email is a primary way to update customers about their order status, queries, transaction details etc., it has become one of the main targets of hackers. Email spoofing has become prevalent – hackers send out Emails to your customers posing as you by forging the Email header so that the actual source of the Email is hidden. You can use this free tool to check whether there is such an Email ID associated with your domain.
Make Your Store PCI Compliant
Data security protocols of the Payment Card Industry (PCI) Standard act as the baseline of e-commerce security. These standards have been set up by credit card companies to ensure that your customers can safely transact online.
In this website, you will find the complete list of the objectives set by PCI and how to achieve each. Follow the steps as instructed to make your website PCI compliant.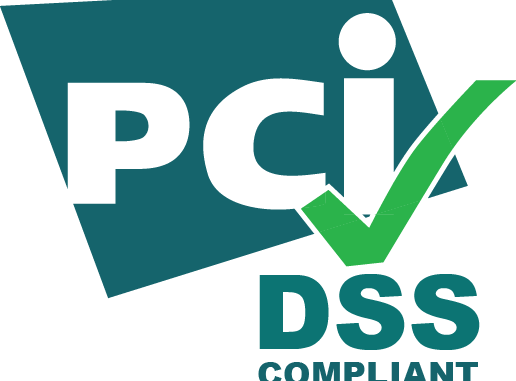 (Image Source: https://www.pciblog.org/what-is-pci-compliance/)
Keep Your Website Updated
Older versions of applications and software are prone to hacking. Hence, it's important to keep your site updated with the latest security patches as soon as they are released.
Scan Your Site for Vulnerabilities
Hackers are developing their skills every day with every new update. Hence, it's important to regularly check your site for any vulnerabilities.
Check all links to your site including advertisements and other third-party content. It's easy to inject malware into these to get your site.

Test your site for SQL injection vulnerabilities. Hackers can place fraudulent SQL commands in your forms to retrieve your customers' information. The safest bet is to turn to internet security companies for these. You can also use this free tool for scanning to identify such issues.

Also, check for cross-site scripting using these free tools
Be regular with these scans and keep a close eye on the reports to identify any malicious activity.
Keep Fraudulent Customers at Bay
There's more to e-commerce site security than just data breach. To keep your business running, you constantly need to keep fraudulent customers at bay. In our experience with e-commerce companies of various sizes, we have come across multiple scenarios where the e-commerce company had to suffer the brunt of dealing with dishonest customers without knowing about it, of course.
Sometimes customers may claim that money had been deducted from their credit card while the order had been canceled/had not been placed. In that case, you will be charged a chargeback from credit card companies. This means for a refund of say, $100 for a dress, you will have to pay an extra $25. If the order had been placed in bulk, the loss will be significantly more. In addition, such an incident will mark your website with a negative score.
The following picture explains the concept of chargeback.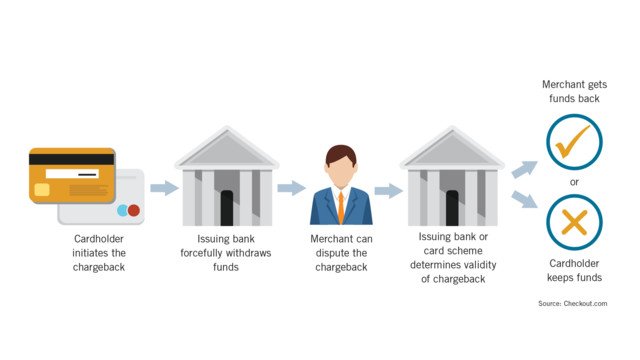 (Image Source: https://www.vendingmarketwatch.com/article/12169057/emv-chargebacks-what-we-know-so-far)
Good news is, there are ways to check the authenticity of customers. You can integrate the BeenVerified tool in your site to check the credibility of the customer before authorizing their payment. It will act as a filter to keep fraudulent customers away. You can also check out the work we have done for BeenVerified to make the tool what it is today.
We understand the woes of a website owner whose valuable site data have been compromised and we'd be happy to help you out.